Shift opening Sept 27th at Able Baker Contemporary
curated by Tracy McKenna. Artists included: Paolo Arao, Caetlyn Booth, Carl D'Alvia, Elise Ferguson, Catherine Haggarty, Jen Hitchings, Rose Marasco, Emily Mullin, Jason Rolph and Emilie Stark-Menneg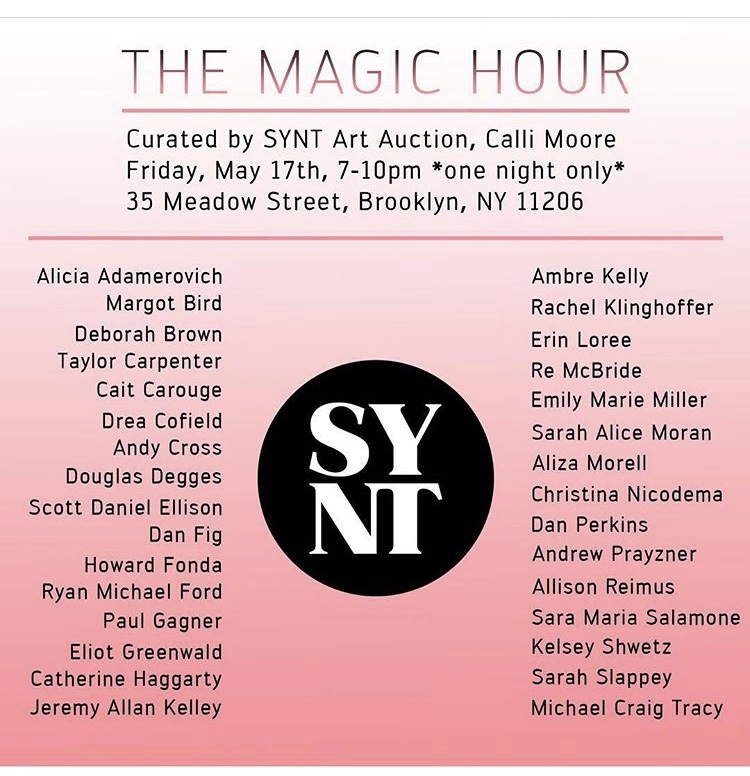 The Magic Hour, curated by Calli Moore & See You Next Thursday - May 17th
!Quirk
A group show at Kathryn Markel Fine Arts curated by Fran Shalom
Opening Reception: Thursday, May 9th, 6-8pm.
529 West 20th, Suite 6W
New York, NY 10011
May 9th - June 15th, 2019
// Benched //
Site specific installation at 1 Main Window on view through April 29th 2019
1 Main Street, Dumbo, Brooklyn
Participating in the 2019 20x16 Biennial at Morgan Lehman Gallery Feb 28th - 6-9pm
526 West 26th Street, Suite 419
New York, NY 10001
Wed - Sat, 11am - 6pm
Impossible Pictures
Solo Show, Bloomsburg University, Bloomsburg PA.
October 4 - November 15, 2018
Artist Talk: October 4, 2018, 12:30pm
My collaboration with New York based Minor History launched October 12th!
Over the lat 6 months we have been working together to create this unique and considered collection of wearable art pieces inspired by my most recent body of work.
You can check out videos, information and shop the collection here.
Two person exhibition - Phantom Shell
Catherine Haggarty & Anna Valdez
The Provincial, MI
July 22nd - August 13th, 2018